Wolf, Sheep and Cabbage
Tap game once for full screen.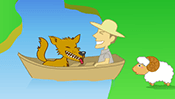 Wolf, Sheep and Cabbage
- Don't leave the quarry behind with the predators! Your goal in this game is to transfer the wolf, the sheep and the cabbage to the opposite shore by boat. Note that when you are not around, the wolf will eat the sheep and the sheep will consume the cabbage. Your score will be counted based on the time you have spent as recorded at the top of the screen. No score will be awarded if you take too long to finish the game, so aim to complete your mission with lightning speed! During each transit, you can click to choose 1 object to move it onto the boat, then click the boat to get across the river. You may click the object to settle it on the shore, then travel back to the opposite bank to transfer another object.