Forty Thieves Solitaire
Tap game once for full screen.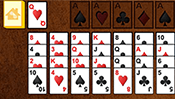 Forty Thieves Solitaire
- In this solitaire card game you need to move all the cards to the 8 foundation piles at the upper right corner. The foundation piles must be built in suit from A to K. You can use the tableau piles (the middle 10 piles) to hole the cards temporarily while you build up the cards in the foundation piles.