Welcome to Franktown Rocks, the only virtual world where you can Make Friends & Make Music!

Play in an adventure world where real friends and virtual pets help you fight The Darkness and make a difference on Earth.

Meet friends, chat, play games and shop in a fashionable world. Log in now to join in on the fun.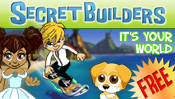 Explore virtual lands, undertake quests, play games, make friends and more in SecretBuilders!

1
2