Educational Focus: Play & Learn
This is a barnyard game between you and seven hens. Each hen bears a letter. Use the letters to spell as many words as you can before time runs out. To spell a word, type the letters or click the hens in order, and watch the word appear. How many words can you make?
Fan Pick of the Week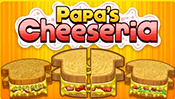 Cook gooey, cheesey, grilled cheese sandwiches for hungry customers! Papa's Cheeseria puts you back behind the counter, where you will serve up the best sandwiches in town!
Special Announcement

Now you can play your favorite flash games on a tablet or mobile phone with HECTOR Browser. PrimaryGames is a HECTOR approved website. Find it in the App Store or on Google Play.
Game Spotlight
Play games, win ourWorld money, and get clothing and accessories to create your own style.
Featured Free Printable